Terra.js - a semantic terrain engine
Felix Palmer | @pheeelicks | www.pheelicks.com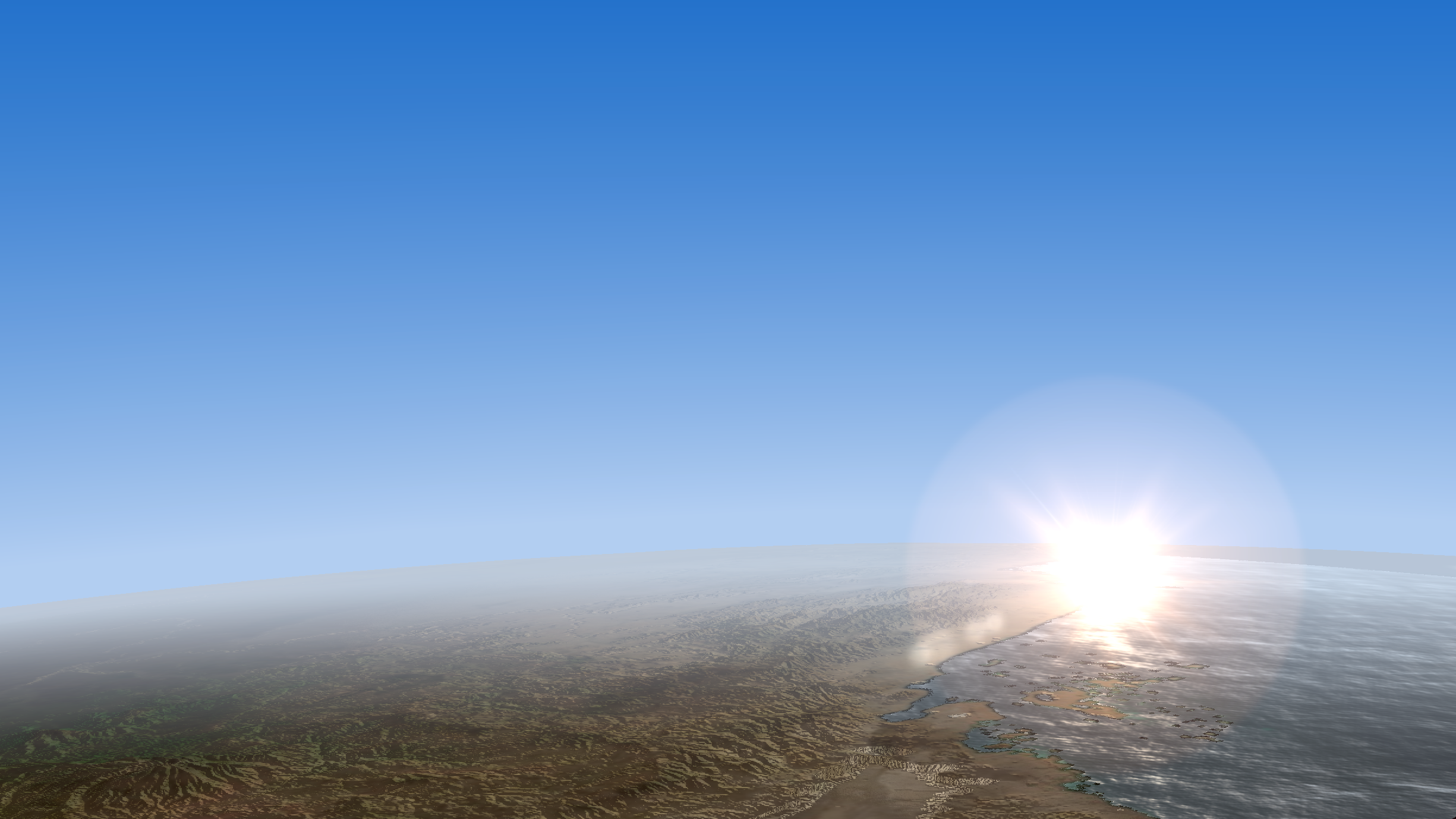 Talk overview
What is it?
Why build this?
Architecture overview
Plans for the future
Use cases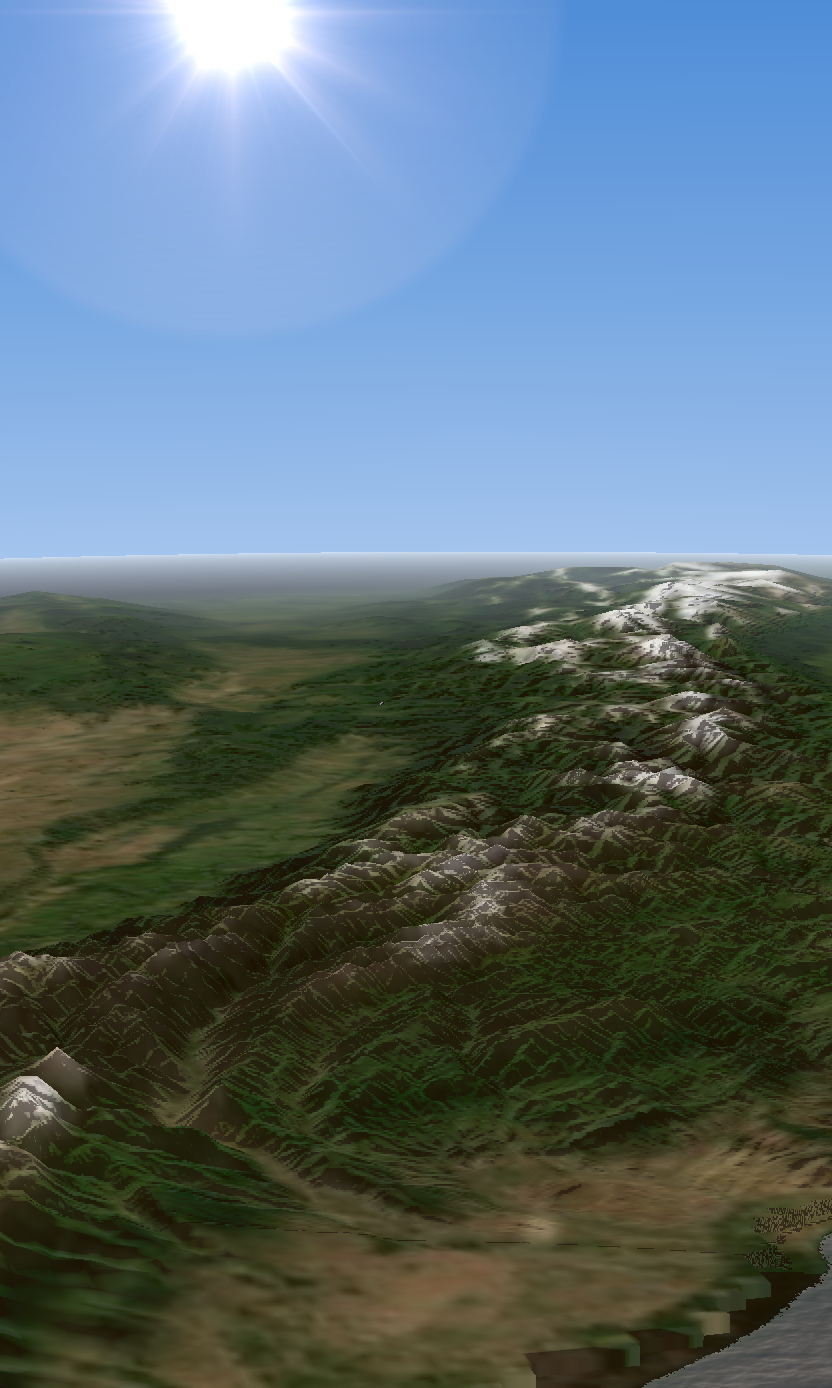 A semantic terrain engine
Why "Semantic"?
Rather than focussing on high resolution photography, understand landscape better
Generate a model from the data, rather than using them directly
Key is having land cover data in addition to satellite photography

DEMO
Warning: alpha quality, feel free to use your imagination
Why build this?
Originally motivated by visualizing train locations (AKA yak shaving)
Perhaps there is a use for a more general purpose framework?
Thought it might be fun

Towards a photo-realistic, realtime Earth
1m accurate elevation and land cover data
Accurate weather data
Computers 100X faster than today with 100X internet bandwidth
Real-time stream of the earth's surface (see: Urthecast)
Immersive augmented reality (e.g. Oculus Rift, minus the nausea)
How do we get there?
Digitize everything
Understand everything
Quick recap
Terra.js is a framework for creating models representing places
The engine consumes data that semantically describes a place
A 3D model is generated by the engine
How does this work?
Data sources
Tile loading
Terrain generation on the GPU
Land cover + satellite imagery to create final image
Data
Basic building blocks are:

Aerial photography
Elevation data
Land cover data
Data sources
Satellite imagery
Elevation data
Land cover data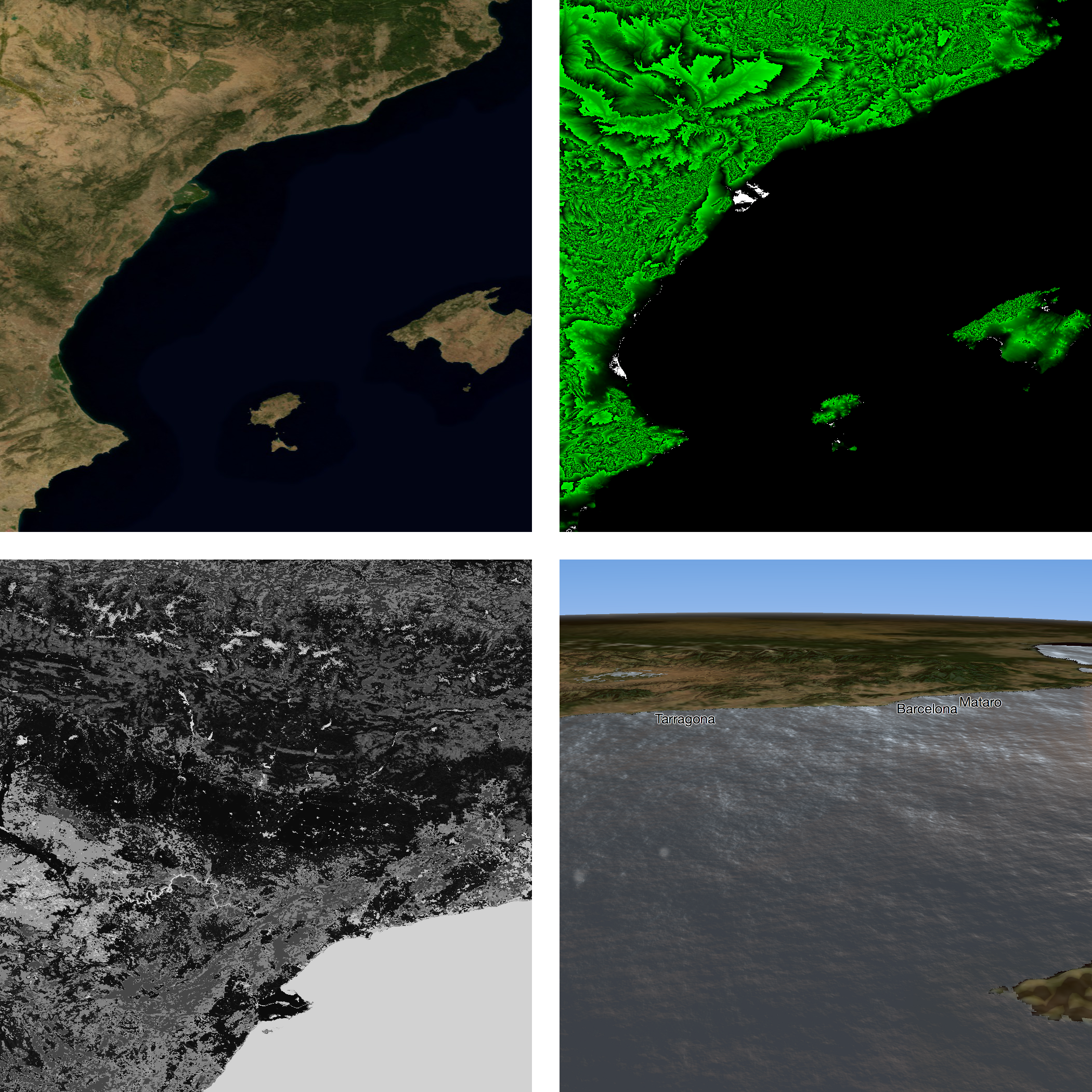 Data courtesy of:
NASA / ESA (GLOBCOVER)
Tile loading
Data sources are processed into tiles
Numerous zoom levels are produced
Based on the current camera location Terra.js downloads required tiles
Loaded tiles are passed to GPU for use
Terrain generation
Primitive geometry is produced in JavaScript and passed to the GPU
Vertex shader reads in elevation data and displaces vertices
Complication: Level of Detail
Rendering
Deformed terrain is passed to the fragment shader
Here GPU makes decisions on how to render based on land cover data
Satellite imagery is used to supplement generated model
Build what's missing
Better quality data, pixellation is obvious close to surface
Weather display
Rendering based on time of day
Seasonal rendering
Styling, cell shading etc
Procedural cities
Algorithmic botany
Algorithmic botany
Enables creation of detailed environments
Not necessary to stream all data, just land cover
After all, a tree's a tree
Image courtesy of algorithmicbotany.org

Algorithmic botany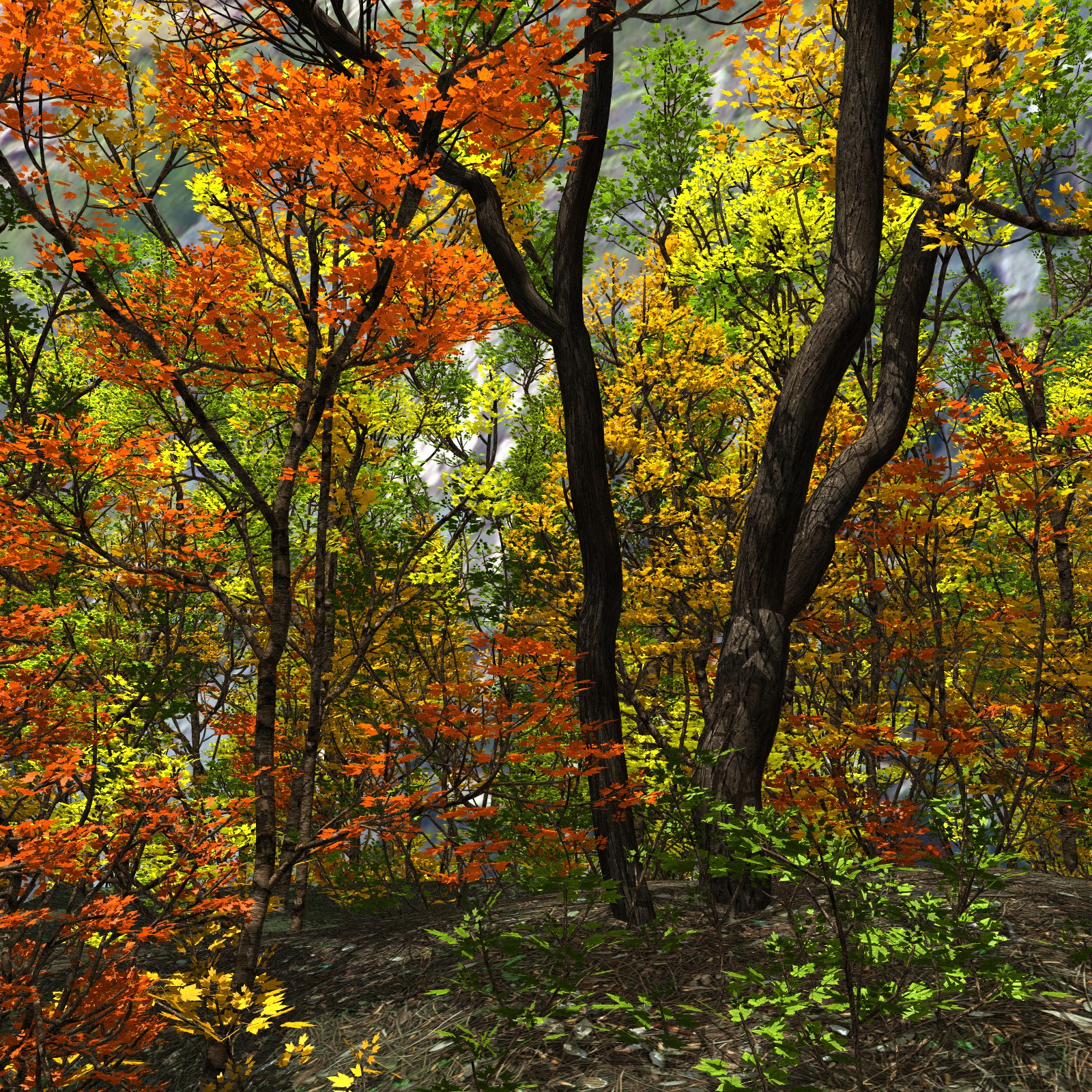 Image courtesy of algorithmicbotany.org
Use cases
Train locations! (That yak won't shave itself)
National parks
Data visualization? Does 3D help here?
Games. Flight sims? Age of Empires anyone?
...?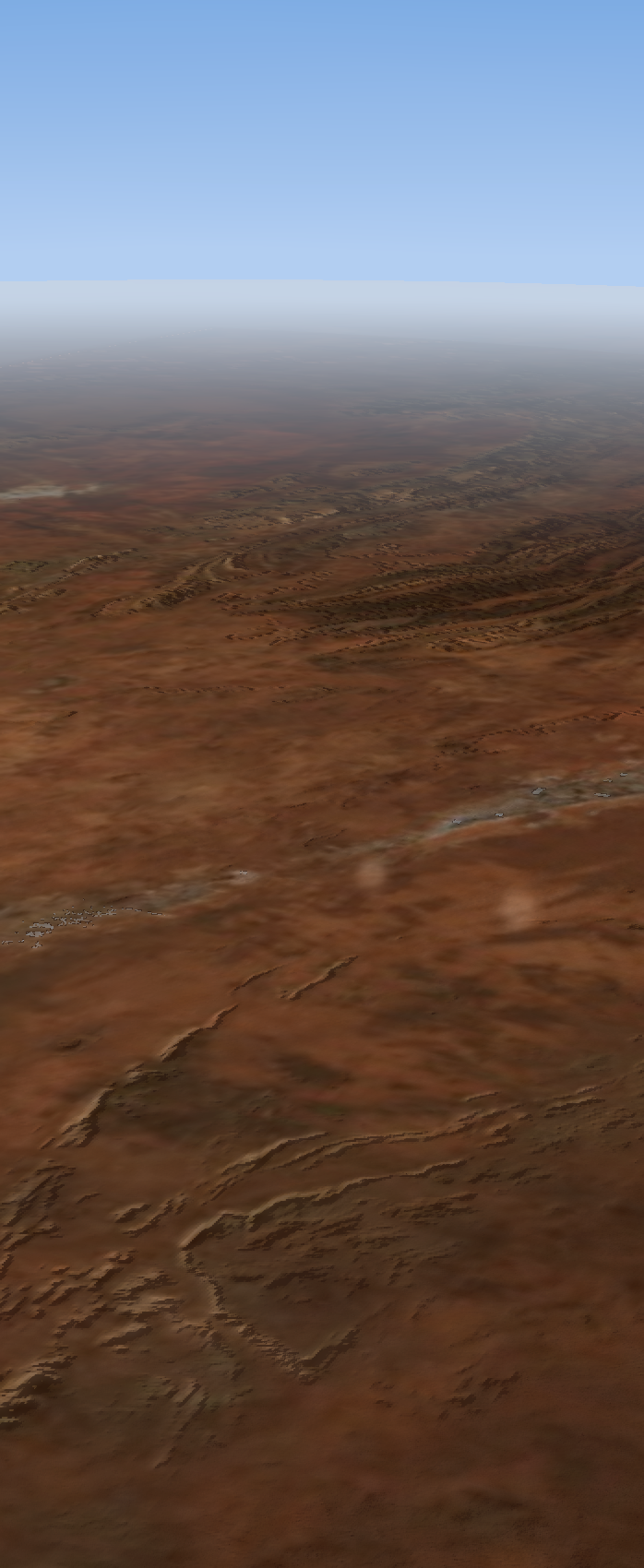 Questions?
Felix Palmer | @pheeelicks | www.pheelicks.com